DETECT, RESPOND & RECOVER RAPIDLY
Today's threats evolve constantly. Prevention tools, like anti-virus, firewalls and sandboxes, can't stop infections they haven't seen before. Damballa Failsafe is different. It fills the gap between failed prevention and your incident response.
Damballa Failsafe is an automatic breach defense system that detects APT and advanced malware infections with certainty, terminates their activity and gives responders the ammunition needed to apidly prevent loss.
Damballa Failsafe advanced threat protection delivers actionable information about known and unknown threats regardless of the infection's source, entry vector or OS of the device. It arms responders with definitive evidence so they can rapidly prevent loss on high-risk devices while blocking activity on the rest.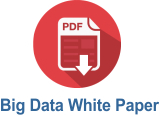 DAMBALLA FAILSAFE EMPOWERS SECURITY TEAMS TO:
TIdentify infected devices with certainty
Address threats faster
Prioritize remediation based on the highest risk devices
Block active infections until they can be addressed
Adapt their security posture to prevent adversaries from successful future attackspidly prevent loss on high
risk devices while blocking activity on the rest.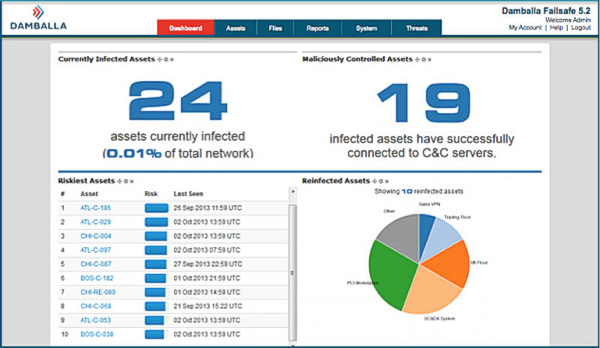 Instead of relying on any one technique or snapshot in time, Damballa Failsafe operates in real-time and gathers evidence over time. Failsafe produces actionable intelligence using multiple techniques.

AUTOMATICALLY DISCOVER ADVANCED THREATS
Monitoring network traffic for threat behaviors and activities
Automatically verifying which devices have successful infections
Assigning a risk level for each infected devices
Stopping all communications between the device and the threat actor
CONTAIN THREATS INSTEAD OF CHASING ALERTS
Prevention devices are a necessary first layer of protection. When they fail – and they will – Damballa Failsafe discovers infected devices that have eluded preventative controls. Instead of relying on any single detection technique, Failsafe discovers successful infections with certainty by:
Understanding the network behavior of the device
Analyzing payload content
And applying Damballa's intelligence about malicious destinations, command and control communications and threat actors
HARNESS BIG DATA FOR VISIBILITY AND ACCURACY
Big Data" is not just about having data, it is about how you use it. Damballa Failsafe is powered by unique big data threat analytics that help you gain unmatched visibility to accurately identify successful infections on your network by:
Leveraging over 8 trillion records annually from enterprise, consumer, and mobile sources
Protecting over 400 million enterprise devices worldwide
Seeing 35% of the world's Internet DNS traffic and mobile traffic
And Increasing database by 22 billion records per day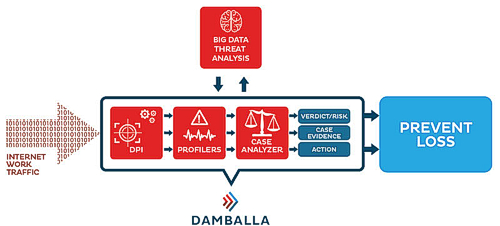 BETTER VISIBILITY EMPOWERS SPEEDY RESPONSE
Damballa is a company rooted in data science, threat research, technology innovation and common business sense. We help enterprises solve the never-ending, always-growing challenge of preventing loss due to a security incident. The way we accomplish that can't be replicated.
Our enterprise product, Damballa Failsafe, is the only security system that automates discovery of your organization's highest-risk devices under a threat actor's control. Unlike point solutions, like sandboxing or IPS devices, our approach doesn't rely on one way of identifying a threat. We combine behavioral analysis of each endpoint's network traffic and payload analysis with knowledge about threat actors and their tools and techniques. on high-risk devices while blocking activity on the rest.

THREAT VISIBILITY
Since 2006, we've been processing massive volumes of data traffic. Today, we see 35% of the world's Internet DNS traffic and one-third of mobile data traffic. That equates to 8 trillion unique records per year of unfiltered, unstructured and unbiased Internet and enterprise network data.
SPEEDY RESPONSE
This massive data set feeds Failsafe's detection engine, which gets 'smarter' over time as it continually watches network communications and profiles traffic patterns. Unlike prevention security controls, which require prior knowledge of a threat, our system automatically discovers unknown malicious activity emanating from hidden infections. We present definitive evidence of device infectionto security teams so they rapidly prioritize their response and prevent loss.
RESOURCES
Case Study: University CISO Deploys Damballa Failsafe for Increased Visibility into Advanced Threats
Solution Datasheet: Damballa Failsafe
Whitepaper: Advanced Threat Detection for the 21st Century: Integrating Big Data Intelligence to Automate Breach Defense
Whitepaper: Protecting Critical Infrastructure and Industrial Networks from Advanced Threats
DAMBALLA FAILSAFE EMPOWERS SECURITY TEAMS TO:

TIdentify infected devices with certainty
Address threats faster
Prioritize remediation based on the highest risk devices
Block active infections until they can be addressed
Adapt their security posture to prevent adversaries from successful future attackspidly prevent loss on high
risk devices while blocking activity on the rest.


Instead of relying on any one technique or snapshot in time, Damballa Failsafe operates in real-time and gathers evidence over time. Failsafe produces actionable intelligence using multiple techniques.

AUTOMATICALLY DISCOVER ADVANCED THREATS

Monitoring network traffic for threat behaviors and activities
Automatically verifying which devices have successful infections
Assigning a risk level for each infected devices
Stopping all communications between the device and the threat actor

CONTAIN THREATS INSTEAD OF CHASING ALERTS

Prevention devices are a necessary first layer of protection. When they fail – and they will – Damballa Failsafe discovers infected devices that have eluded preventative controls. Instead of relying on any single detection technique, Failsafe discovers successful infections with certainty by:

Understanding the network behavior of the device
Analyzing payload content
And applying Damballa's intelligence about malicious destinations, command and control communications and threat actors

HARNESS BIG DATA FOR VISIBILITY AND ACCURACY

Big Data" is not just about having data, it is about how you use it. Damballa Failsafe is powered by unique big data threat analytics that help you gain unmatched visibility to accurately identify successful infections on your network by:

Leveraging over 8 trillion records annually from enterprise, consumer, and mobile sources
Protecting over 400 million enterprise devices worldwide
Seeing 35% of the world's Internet DNS traffic and mobile traffic
And Increasing database by 22 billion records per day

BETTER VISIBILITY EMPOWERS SPEEDY RESPONSE

Damballa is a company rooted in data science, threat research, technology innovation and common business sense. We help enterprises solve the never-ending, always-growing challenge of preventing loss due to a security incident. The way we accomplish that can't be replicated.

Our enterprise product, Damballa Failsafe, is the only security system that automates discovery of your organization's highest-risk devices under a threat actor's control. Unlike point solutions, like sandboxing or IPS devices, our approach doesn't rely on one way of identifying a threat. We combine behavioral analysis of each endpoint's network traffic and payload analysis with knowledge about threat actors and their tools and techniques. on high-risk devices while blocking activity on the rest.

THREAT VISIBILITY

Since 2006, we've been processing massive volumes of data traffic. Today, we see 35% of the world's Internet DNS traffic and one-third of mobile data traffic. That equates to 8 trillion unique records per year of unfiltered, unstructured and unbiased Internet and enterprise network data.

SPEEDY RESPONSE

This massive data set feeds Failsafe's detection engine, which gets 'smarter' over time as it continually watches network communications and profiles traffic patterns. Unlike prevention security controls, which require prior knowledge of a threat, our system automatically discovers unknown malicious activity emanating from hidden infections. We present definitive evidence of device infectionto security teams so they rapidly prioritize their response and prevent loss.

RESOURCES

Case Study: University CISO Deploys Damballa Failsafe for Increased Visibility into Advanced Threats
Solution Datasheet: Damballa Failsafe
Whitepaper: Advanced Threat Detection for the 21st Century: Integrating Big Data Intelligence to Automate Breach Defense
Whitepaper: Protecting Critical Infrastructure and Industrial Networks from Advanced Threats