Product Overview
We help our customers securely deploy any application, whether B2C, B2B, or B2E, with a broad range of app-centric protection and deployment solutions.
Application Protection for High-Value Apps
The Arxan product portfolio provides comprehensive, app-level security to protect against a range of threats or to enforce enterprise app governance. Our solutions enable customers to focus on their business, while we focus on protecting their apps by staying on the forefront of security threats.
Multi-Layered Application Protection
Arxan Application Protection delivers layered, adaptive application protection to secure application binary code, data and keys and JavaScript. Arxan protects apps through a combination of active and passive software techniques along with key and data encryption and obfuscation. Arxan transparently protects applications running on servers, desktops, laptops and mobile devices. Integrating Arxan protection into applications requires no changes to source code and is non-disruptive to software development lifecycles (SDLC).
Understanding how apps are being attacked to determine a response is key to staying ahead of bad actors. Application attacks all start with a common approach — the reverse engineering of an app to gain an understanding of the code. Once the code is understood, bad actors can access corporate intellectual property (IP), customer data including personally identifiable information (PII) and backend infrastructure and application programming interfaces (APIs). Knowing how these attacks are executed in real-time is critically important to ensure app protection adapts to address threats before they become large scale attacks.
Organizations are recognizing opportunities to use enterprise mobile apps to foster collaboration and increase productivity. However, many IT administrators, developers, and organizational leaders are struggling to find effective ways to securely deploy and distribute mobile apps without requiring device management or device enrollment while maximizing user adoption and maintaining privacy.
Arxan's Product Portfolio
Protect Your Apps from the Inside Out
Stop the threat where high-risk attacks are occurring
Layered, Adaptive App and Data Protection – protects app binary code, JavaScript, & cryptographic keys for apps deployed anywhere
Better protect the enterprise by protecting the increasingly common entry point: high-value apps
Extend your perimeter of trust
Complement traditional security approaches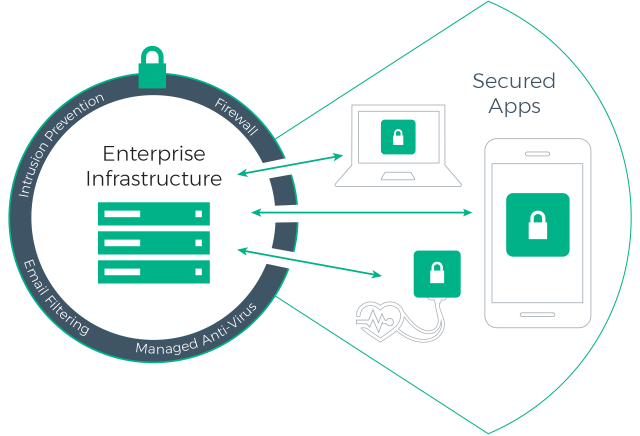 Secure Any Enterprise App, Reach Every User
App-level security, policy & governance
Deploy custom, off-the-shelf & public apps
No SDK or code modifications required
Policy-enabled apps without requiring MDM
Branded, private enterprise app store
Protect Your Apps from the Inside Out

Stop the threat where high-risk attacks are occurring

Layered, Adaptive App and Data Protection – protects app binary code, JavaScript, & cryptographic keys for apps deployed anywhere
Better protect the enterprise by protecting the increasingly common entry point: high-value apps
Extend your perimeter of trust
Complement traditional security approaches

Secure Any Enterprise App, Reach Every User

App-level security, policy & governance
Deploy custom, off-the-shelf & public apps
No SDK or code modifications required
Policy-enabled apps without requiring MDM
Branded, private enterprise app store